As Madden 18 steps closer to it's release date on 25th August, more and more new things start revealing.

Our current topic is about the recently revealed features and improvements in existing features.
Play Now LIVE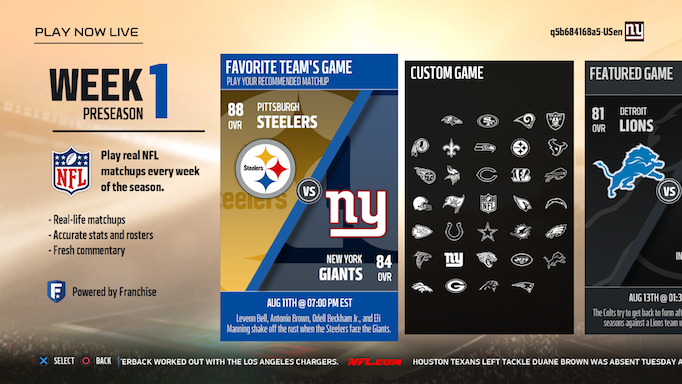 Like FIFA, Madden is also moving a step closer to realism with the reveal of it's new feature – "Play Now LIVE". This feature lets you play matches along with the real-life NFL seasons and playoffs, enabling you to jump into the real-life NFL world and stories instead of just watching them on your television. Play Now LIVE matches will be updated each week with up-to-date stats, rosters and commentary redefining your gaming experience like never before. With the Play Now Live feature you can play an upcoming fixture before it comes to your television.
Simple Season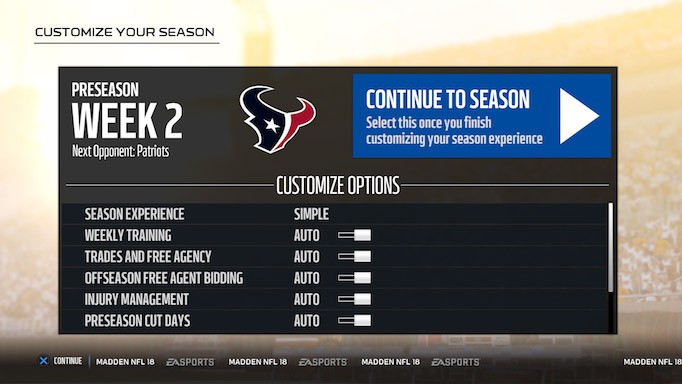 Finished the week's Play Now Live match ?? Jump into simple season !!! Simple season let's you continue your team's journey with brand-new customization options. You can either play a simple season which lets you play many game "as fast as possible", or you can play a full-control season in which you can manage and improve your team further. There also will be a whole set of options which you can use to customise your season according to your wish:
Take a look at the whole set of options

Weekly Training
Set to manual to hit the practice field each week to train your players. Set to auto to let the CPU handle this activity for you.

Trades and Free Agency
Set to manual to implement trades and free agency through the season. Set to auto to not be prompted.

Offseason Free Agent Bidding
Set to manual to bid on free agents during the offseason. Set to auto to let the CPU handle this activity for you.

Injury Management
Set to manual to decide when to play injured players and place players on injured reserve (IR). Set to auto to let the CPU handle this activity for you.

Preseason Cut Days
Set to manual to control which players get cut during the preseason. Set to auto to let the CPU handle this activity for you.

Contract Negotiations
Set to manual to control re-signing of your players. Set to auto to let the CPU handle this activity for you.

Scout College Players
Set to manual to scout college players and build your draft board to use in the upcoming draft. Set to auto to let the CPU handle this activity for you.

League Advancement
Set to manual to control Week and draft advancement. Set to auto to automatically advance each time after you play your game or make a draft pick.
Franchise Starting Points
Franchise Starting Points are the various points from where you can start your game. Like if a transfer was made in a particular week, then you can actually choose to start playing before the transfer was made or after the transfer was made with the help of starting points. These starting points are very important because they bring authenticity to the game and can entertain lots of NFL die-hard fans by letting them create their own story.
Customisable Draft Board
Customisable Draft Board was according to EA, the top community request. Now you can arrange players by dragging and dropping in the draft board, like the way you do in changing your lineup.
Franchise Commentary
Commentaries are something that can actually boost your adrenaline rush and grant you a more immensive gaming experience. They intensify your gameplay to a very large extent.
This year EA has kept this in mind and has presented Brandon Gaudin and Charles Davis to help you with the intensifying act. They are going to highlight various things including previous match results, weekly award winners, and more. They also help you to stay immersed with the story by updating you with what's going on in the league.
Madden NFL 18 has revealed quite a bunch of things which are still left to add to this list. We apologise for not being able to add them but you can take a look at them here.
---
Enjoyed This Post ??
Yes

Get More Such Posts Right In Your Inbox

Join Our Email Newsletter: